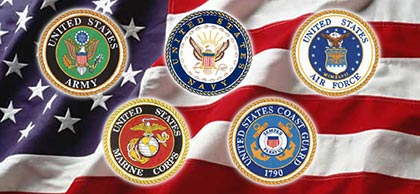 (Picture Above is American Flag with Military Emblems)
Why use a REALTOR® with the MRP certification?
They understand that when military members, veterans and their families relocate, the services of a real estate professional who understands their needs and timetables makes the transfer easier, faster, and less stressful. The MRP certification focuses on educating real estate professionals about working with current and former military service members which helps their clients find the housing solutions that best suit their needs and take full advantage of military benefits and support that are available.
Active duty, Guard and Reserve when you receive your PCS the clock starts.
You need to move soon and sell your current house even sooner. As a Military Relocation Professional (MRP), I understand your unique situation and have the knowledge to make the most of every transaction, selling and buying. My goal is to find a location and community quickly, so that you and your family can feel at home.Thank you for your service and welcome home.
Veterans
you have served our country bravely, and now you're ready for a new home. A Military Relocation Professional (MRP) has the understanding to address your situation and the knowledge to make the most of every selling and buying transaction. As an MRP, I can help you find a location with convenient access to the military benefits you've earned. You'll always be a veteran, and we'll always get you home.
Click Here to Visit VA.gov Home Loans

(Picture Above is of National Association of Realtors Logo and Military Relocation Professionals Logo)