One of the best parts of summertime in Michigan is all of the great activities and festivals! There are tons of events coming up, here is some info on some great things to do with your family this month:
Michigan Real Estate Resource Team Family Get Out & Play Day!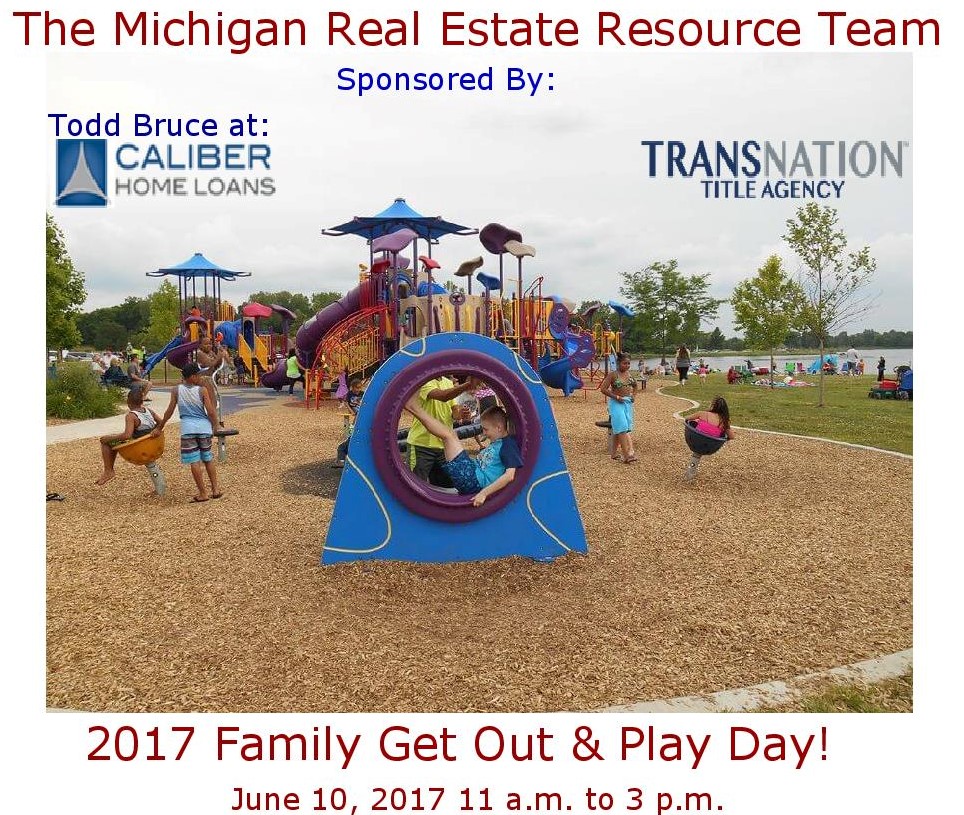 The Michigan Real Estate Resource Team invites you to join us at Stoney Creek MetroPark in Shelby Twp on June 10th, 2017 from 11 a.m. to 3 p.m. for a day of outdoor fun! We have an all-ages hike, kid-friendly activities, and a cook out lunch planned. We will be holding a 50/50 Raflle with proceeds going to the Michigan Animal Adoption Agency. More details to come! Keep checking back to the Event page for more info. We hope to see you there!
Sponsored by Todd Bruce with Caliber Home Loans & Transnation Title. Click here to visit our event page!

Frankenmuth Bavarian Festival
June 8 - 11, 2017
Michigan's largest celebration of Bavarian Heritage is the Frankenmuth Bavarian Festival. The festival began in 1959 as a collaboration with the Grand Opening Celebration of the Bavarian-Style addition to Fischer's Hotel on Main Street of the city by William "Tiny" Zehnder.
Visitors to the Bavarian Festival are invited to celebrate German heritage through Bavarian music played by authentically dressed German bands, watch two parades, enjoy the local schuhplattler dancers Da Frankenmuda Fratz'n, and dance music. Venues sell many varieties of German foods and desserts, along with imported and domestic beer.
Click here to visit the event's web page.
Art on the River - Port Huron
Art on the River is a two day art and music festival which features many local artists, crafters and bands! Hosted by Citizens for a Vibrant Community, Art on the River is the second weekend in June in Downtown Port Huron . . . along the shores of the Black River on Quay Street and surrounding areas.
Click here to visit the event's web page.
Henry Ford 2017 Motor Muster at Greenfield Village
June 17-18, 2017
Kick off the start of summer in Greenfield Village during Father's Day weekend with one of the most extensive and carefully chosen selection of vehicles in the country. Hundreds and hundreds of cherished, fawned over, mythic cars from America's automotive dynasty (and their owners) gather for a weekend of glamour and grit. Every automobile, motorcycle and truck has been curated to tell a unique story. From the minutely authentic entries to stars from our own unparalleled collection, Greenfield Village transforms into a massive, muscular history of the American car.

Click here to visit the event's web page.
Annual St. Clair Art Fair
June 24-25, 2017
The annual St. Clair Art Fair is one of the oldest art fairs in eastern Michigan. This juried Art Fair is traditionally the last full weekend in June, Saturday and Sunday.
In 2017 the Art Fair will return to our traditional two days, Saturday and Sunday, June 24th and 25th. Check the 2017 Art Fair page for more information and to download an Artist Application.